"The region has an abundance of outdoor green spaces for you to discover. So many different places to contemplate nature, enjoy a stroll or have a picnic !"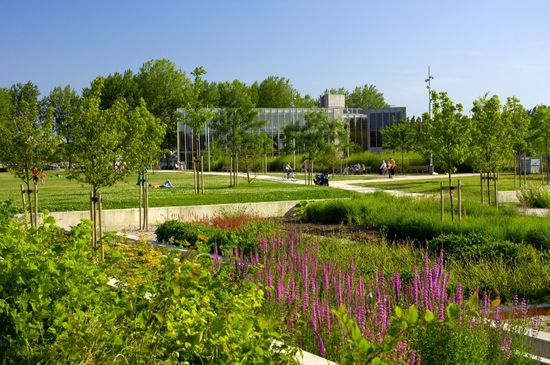 Le Colysée public gardens
The two contemporary gardens at Le Colysée were designed by well-known landscapers Gilles Vexlard and Laurence Vacherot (Latitude Nord). The first one, the mosaic garden, is traversed by a wide flagstone path starting on Avenue du Colysée and leading to the plain. It was inspired by the aerial photographs taken by Yann Arthus Bertrand with ribbons of vegetation and permanent and temporary floral displays forming walkways through the garden.
The second one, the wet garden, is situated just below and takes advantage of the water in the subsoil. It is planted with aquatic plants at different levels and reliefs and is inspired by Asian gardens.
Practical information:
Where: Avenue du Colysée in Lambersart
Open to the public all year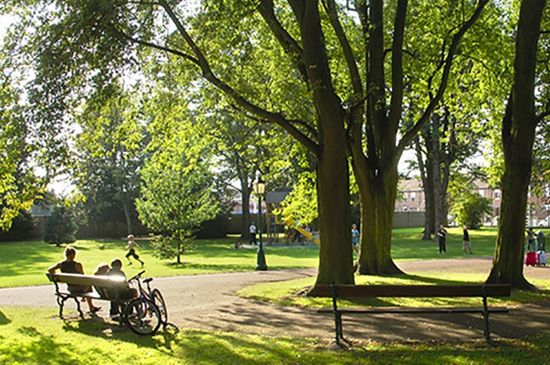 MEL
Le Domaine du Vert Bois
Domaine du Vert-Bois is a country estate right in the centre of Marquette-lez-Lille. The 4.5-hectare grounds are home to all kinds of tree including oaks, lime trees, maples and willows. It also features a children's play area and a fitness trail. The lawn is perfect for picnicking and outdoor games. The site also hosts events organised by the town of Marquette-lez-Lille all through the year, such as the 'Capon Festival'.
Practical information:
Where: 145 Rue Lalau in Marquette-lez-Lille
Open to the public: spring and summer from 8am to 8pm, autumn and winter from 8am to 7pm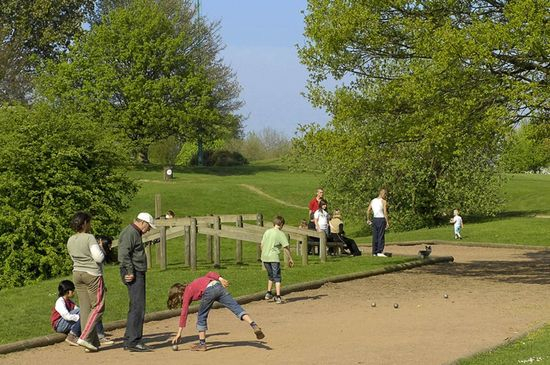 MEL
Fort Leisure Park - (Base de Loisirs du Fort)
This leisure centre is spread over a mammoth 12 hectares and offers all kinds of family activities including a playground, mini golf, tennis courts and fitness trail. It also has a large playing field and an arboretum plus picnic tables and a cafeteria serving refreshments.
Practical information:
Where: Route de Pérenchies in Verlinghem
Contact: +33 (0)3 20 22 22 18
Open to the public: November, December, January, February and March from 8am to 6.30pm; April, September and October from 8am to 7.30pm; May, June, July and August from 8am to 8.30pm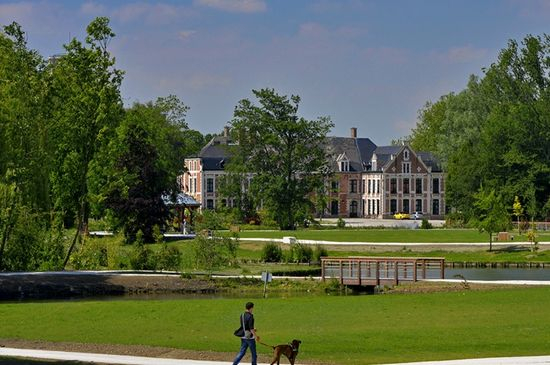 MEL
Château de Robersart Gardens
Acquired by Wambrechies council in 1962 and recently redesigned, the grounds of the Château de Robersart are spread over nine hectares. A stone's throw from the banks of the Deûle and the marina, this is a green oasis in the town centre. An ideal spot for a picnic or a stroll. Keep an eye out for the geese that wander about the park on occasion! Follow the footpaths to explore an evolving arboretum and ponds that are popular for fishing. One of the highlights of the grounds is the Countess Garden. This round garden is made up of four segments, each representing one of the four seasons.
Practical information :
| | |
| --- | --- |
| March / October : 8am-6:30pm | June / August : 8am-9pm |
| April / May / September : 8am-8pm | November / February : 8am-5pm |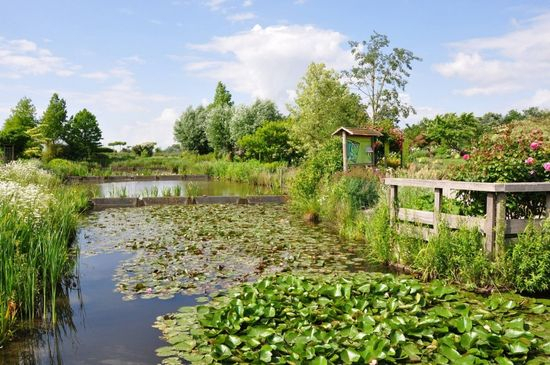 Compagnons des saisons
Compagnons des Saisons Flower Garden
The Compagnons des Saisons Flower Garden is open to the public all year round. Awarded the "Qualité Tourisme" seal of approval, the site is perfect for a peaceful stroll for anyone who appreciates the timeless beauty of flowers. Over 2,000 varieties are planted across the two gardens: one inspired by the English formal garden and a second one featuring an orchard and farm animals. The park is a rich source of enchantment and inspiration.
Guided tours and workshops are also organised through the year based on different themes including the kitchen garden, permaculture and biodiversity.
Practical information:
Where: 644 Rue de Bondues in Wambrechies
Contact: +33(0)3 20 15 82 60 or wambrechies@compagnonsdessaisons.com
Website and Facebook page
Open to the public daily from 9.30am to 7pm