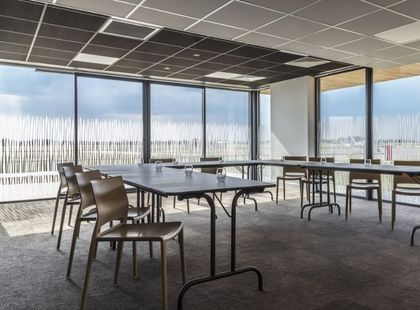 Le Najeti Hôtel
Ideally situated close to major roads and Lille, the Najeti Hotel is the perfect location for seminars and other professional events. Excellent services are offered in a modern eco-designed building. The rooms can be equipped on request with wireless Internet access, a video projector, flip chart, projection screen, pens and notepads. A co-working space is also available.
Practical information:
Where: Parc de l'Aérodrome in Bondues
Contact: 03 21 39 43 32 - reception.lillenord@najeti.com
Website: www.lillenord.najeti.fr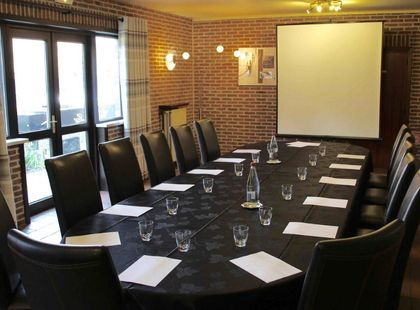 La Cense
La Cense
For your receptions, La Cense has two rooms with capacity for 25-45 guests. The restaurant can also be privatised (50 covers) and a DJ can be supplied to provide the soundtrack for your event. La Cense has a business seminar package featuring a meeting room available to hire by the day with screen, flip chart and other useful equipment and meeting services (coffee, water, afternoon snacks, etc.).
Practical information:
Where: 27 Rue Auguste Bonte in Lambersart
Contact: +33 (0)3 20 92 22 74 - la-cense@orange.fr
Website: www.la-cense.fr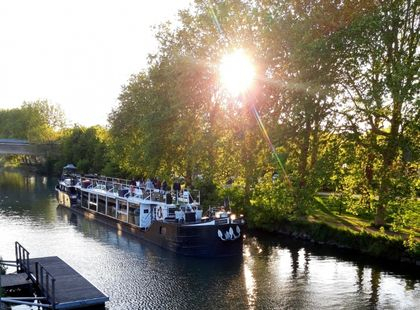 L'Eldorado
L'Eldorado
L'Eldorado is a barge on the river Deûle just a short distance from Lilla, available all through the year. Built in 1929, this vintage craft has been updated to offer all the comfort and amenities you expect from a modern vessel. The original setting is the perfect backdrop to your family events such as weddings, anniversaries and christenings as well as your business events with seminars, product launches and official ceremonies all catered for. L'Eldorado offers a professional service that will deliver precisely the event you want. Our team of event organisers are on hand to deal with every aspect of your event from the layout and decor to the choice of caterer, musicians and other providers to bring your party to life.
Practical information: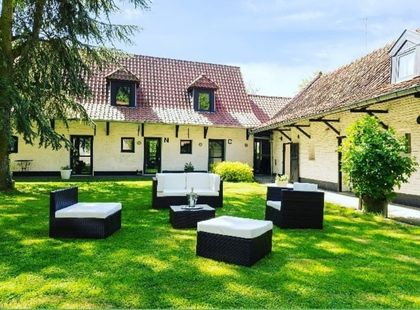 La Ferme Blanche
La Ferme Blanche
La Ferme Blanche is available for all of your family and professional special occasions. The venue has all the equipment you will need to lead your business meetings, including a screen, projector and coffee station. Not to mention an enchanting setting and personalised services so you can enjoy your daytime or evening event with total peace of mind.
Practical information:
Where: 9 Rue Pasteur in Lompret
Contact: +33 (0)3 20 92 99 12 - contact@fermeblanche.fr
Website: www.fermeblanche.fr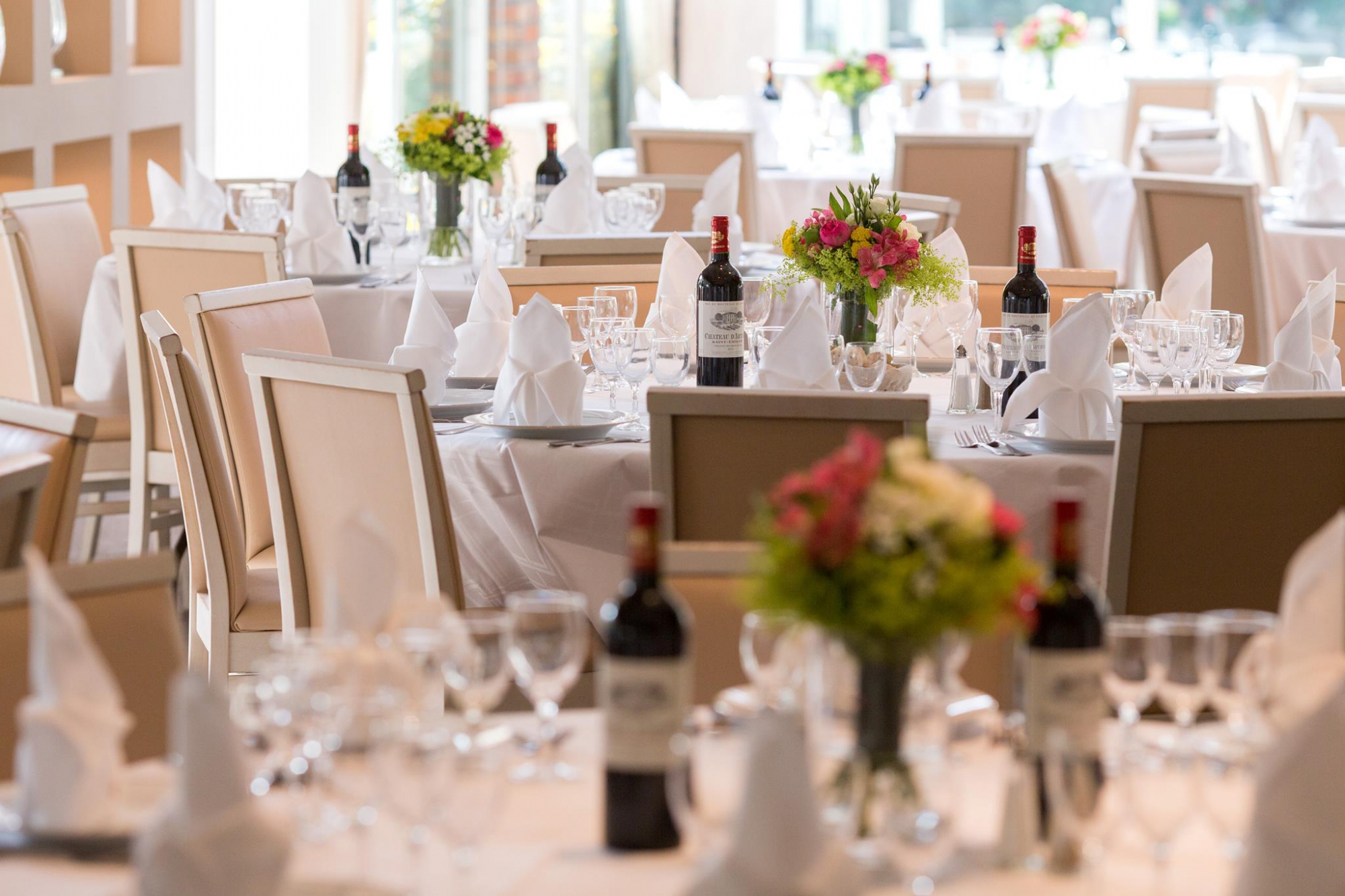 Domaine de le Chanterelle
Le domaine de la Chanterelle
Domaine de la Chanterelle is a reception venue and caterer. The site can accommodate up to 300 seated guests and up to 500 for a standing reception. Set in grounds spread over several hectares, the estate offers sweeping views and superb lighting to immerse guests in the natural surroundings and local wildlife. Premium catering and efficient service promise a care-free day for your special occasion. For your professional events, the venue can provide Wi-Fi, a screen, a video projector, speakers, platforms and a lectern. Private parking available on site.
Practical information: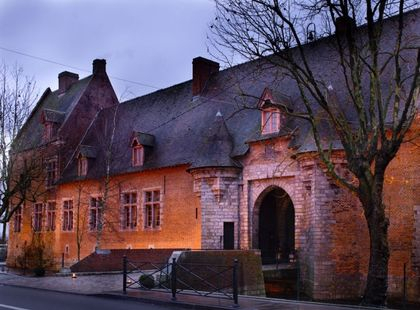 La Ferme des templiers
La Ferme des Templiers
Located just 10 minutes from Lille city centre, this old fortified farm dating from the 14th century is one of the largest reception venues in Lille Metropole. Featuring 1,000 m² of modular space, the barn on the property of this listed historic monument is suitable for any type of event. More intimate events can be organised in the Cheminée space.
Practical information:
Where: 57 Route de Pérenchies in Verlinghem
Contact: +33 (0)3 20 02 78 47 - contact@biez-traiteur.com
Website: www.biez-traiteur.com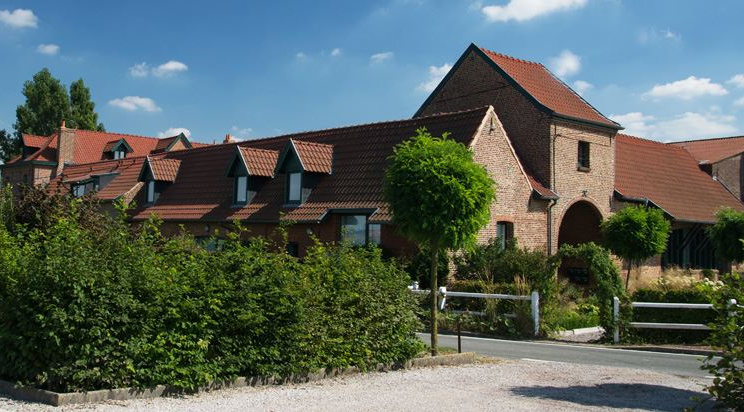 Les Pierres Bleues
Les Pierres Bleues
Les Pierres Bleues is a reception venue located less than 10 minutes north of Lille, a stone's throw from major road connections, between Verlinghem and Frelinghien. Kept in the same family for over 200 years, Les Pierres Bleues is an original venue set in a farmhouse, ideal for your professional events, seminars, meeting, business dinners and much more. Spread over 80m², the venue has capacity for 3 to 20 seated guests and up to 40 standing.
Practical information:
Where: 164, Rue de Messines in Verlinghem
Contact: +33 (0)6 73 15 73 62 - lespierresbleues@wanadoo.fr
Website: www.lespierresbleues.com
La Ferme Saint Chrysole
La Ferme Saint Chrysole
Julie and Maxime Beauvois both have a background in hospitality and bring their experience to bear at this lush location on the banks of the Deûle. Whether you are looking to host a private party or professional event, look no further than Saint Chrysole Farm in Wambrechies. The venue features two modular reception rooms for organising your event in the configuration you want: weddings, family dinners, communions, christening, seminars, conventions, corporate events and more. Original and authentic!
Practical information:
Where: 1015 Rue de Quesnoy in Wambrechies
Contact: +33 (0)3 20 40 79 81 - contact@fermesaintchrysole.com
Website: www.fermesaintchrysole.com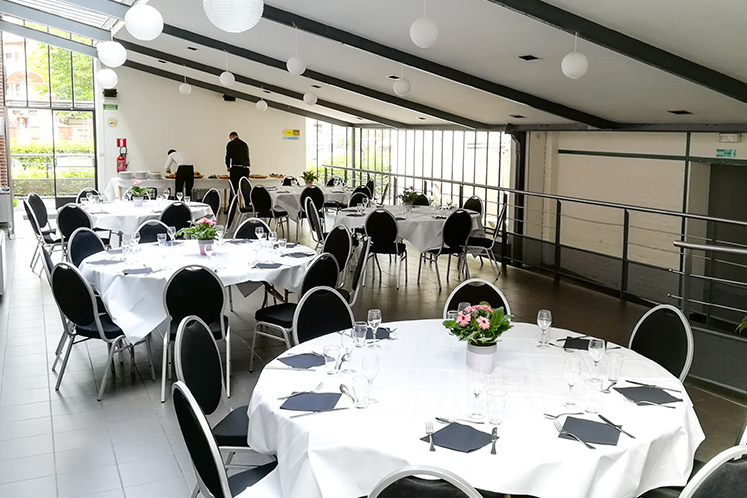 Distillerie Claeyssens
La Distillerie Claeyssens
Claeyssens is a traditional distillery steeped in history that also provides a venue for your events whether they are private (receptions, exhibitions and others) or professional (seminars, business meetings, AGMs, etc.). It has two reception rooms (120m² and 60m²) and a seminar room (100m²). A host of services and facilities also offered: reception and coffee breaks, lunch or evening catering (cocktail receptions, buffets, seated dinners, etc.), distillery guided tours, tasting sessions of our products and on-site shop. The distillery is accessible to people with reduced mobility and has four free parking spaces.
Practical information: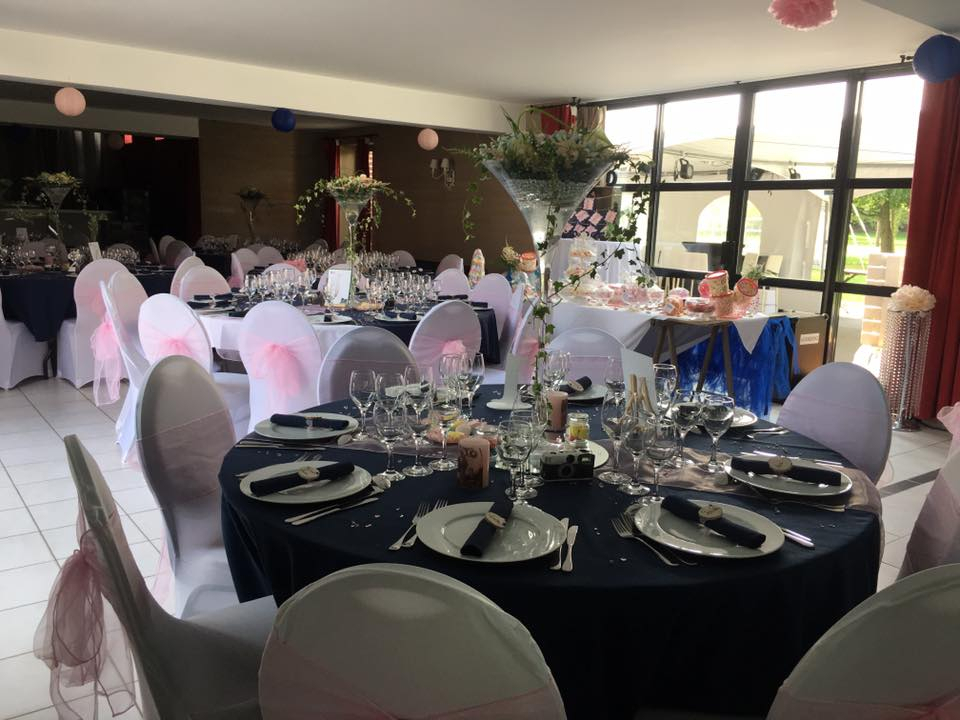 Domaine du Haut Ballot
Domaine du Haut Ballot
Domaine du Haut Ballot offers a splendid location for hosting your receptions. It promises a total change of scenery in the heart of the Lille Metropole countryside. In partnership with local caterers La Gourmandine, it offers a reception room for organising your events.
Practical information: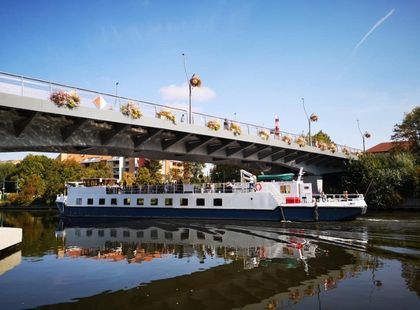 Laléa
Laléa
Are you looking for a quirky venue to host your sublime event? Laléa is perfect for your requirements, a barge to take your guests gliding along the Deûle for an engagement party, business seminar or any other special occasion. Whatever event you are planning, Laléa will steer you in the right direction and give you all the advice you need when planning and running your event! So, ready to get on board?
Practical information:
Where: 150 Quai du Château in Wambrechies
Contact: +33 (0)6 48 05 47 24 - contact@peniche-lalea.fr
Website: www.Laléa.fr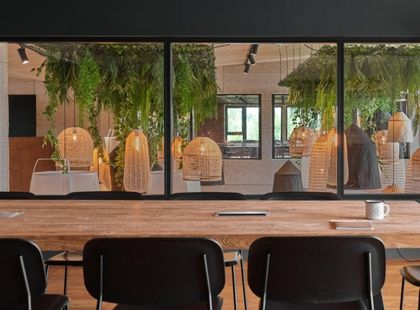 Le Bercail
Bercail
The Bercail is a new addition to the local hospitality scene in the heart of the Lille countryside. In a fully eco-designed building that has embraced its natural surroundings, the team provides a simple and friendly service for whatever you need, be it to come for a drink, dine from the healthy locally-sourced menu, relax or be entertained. The hotel also hosts professional events with its four modular fully equipped rooms so you can focus on what really matters.
Practical information:
Where: 60 Avenue de l'Espace in Wambrechies
Contact: +33 (0)3 59 82 40 00 - contact@bercailhotel.com
Website: www.bercail.co